Interview by Monika Bullette
Angela Cosenzo is an artist and tall ship sailor on the Kalmar Nyckel. We ruminate on whales, seasick cats, and local heroes Joe Biden and the Wyeths. Thank you, Angela!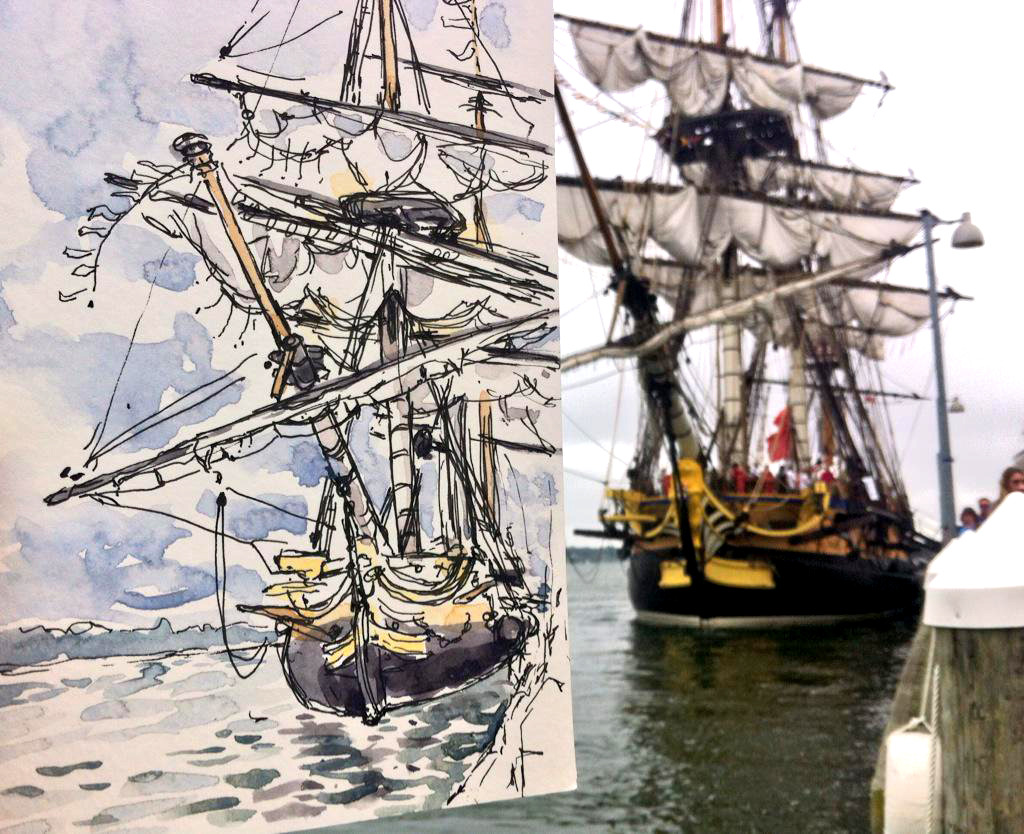 We like to know how people are connected to Delaware - are you a resident, born and raised? What has been your artistic path here?
I was born and raised in Delaware, and I also went to art school here at DCAD. My art has been influenced by Delaware's history, including the Brandywine School of illustration, the aesthetic and philosophical influence of the Arts and Crafts Movement in Arden, Delaware, and by the natural beauty of this area.
This will be your third year participating (you participated in 2013 and 2014)! Did you have a favorite project from your past Delaware Fun-A-Days? Any Artists you are hoping to see participate again?
My first project was Ship-Cat-A-Day, themed around real and imaginary ship cats. My second was Tattoo-A-Day, when I designed and painted a new flash tattoo design each day. I had fun with both, but I think Tattoo-A-Day was my favorite. I enjoyed coming up with a variety of flash tattoo concepts. One of those designs has even been used as an actual tattoo, which means a lot to me.
How did you first come to be associated with Kalmar Nyckel ?
I attended the first Delaware Pirate Festival in 2011, toured the ship, and fell in love. Irving Johnson describes a kind of hypnotism that happens to people on board tall ships and I guess that's what happened to me. I signed up for the training class and I've been a crew member ever since. Before that I had enjoyed ships in fiction and art, and I loved the nautical paintings of Howard Pyle and N. C. Wyeth, but I didn't actually know much about them.
What is your favorite sea creature?
Whales! My favorites are sperm whales and North Atlantic right whales. I was fortunate to see a pair of right whales from the ship's bow one night while we were voyaging. I hope someday I can see a sperm whale too!
Do Sea Cats get seasick? Do they get land-sick when they come off the ship?
Cats do sometimes get seasick, but the ones that do aren't really suited to be ship cats! I don't think they get land-sick though. (I get both seasick and land-sick, unfortunately for me!)
You got to apply gold leaf to Kalmar Nyckel's lion figurehead - what is a Delaware public object you think needs to be gold leafed? Unlimited budget!
Applying gold leaf is a difficult and painstaking process, so I wouldn't want to apply it to anything larger than Leo's mane. But I do think Joe Biden deserves a gold Trans Am.
Rockwell Kent famously illustrated Moby Dick - what would be your dream book to illustrate?
I've always wanted to illustrate the Earthsea series by Ursula Le Guin. It's a beautiful book series with a lot of meaning to me, and contains so many elements I love to paint, including lots of sailing ships and coastal landscapes. And of course, the dragons! The idea is intimidating, but I hope someday I'll be able to attempt it.
Which of these Wyeths do you connect with most - N.C., Andrew, or Jamie? Why?
N. C. is my favorite. I've always been drawn to illustrative artwork and especially to artists from the Brandywine school of illustration, like Howard Pyle, N. C. Wyeth, and Clifford Ashley. I love the way N. C. is able to use shape and color to imply much more than what he actually puts to canvas. The contrast between how his work appears printed in books and seeing his paintings in person never gets old. I especially love N. C. Wyeth's illustrations for Treasure Island, Robinson Crusoe, and Robin Hood. His work has a bold fearlessness to it that I really admire, in his color choices, his composition, and his brush strokes.
Gouache and watercolor - differences with working between the two medium?
In some ways they're very similar. They're both water-soluble mediums and gouache can have some degree of transparency. Both are well suited to painting while traveling. Both also have a reputation for being difficult to work with.
The main difference is that gouache can be an opaque paint, while watercolor is transparent. The consistency of gouache paint can be almost buttery, and I'm finding it very appealing to paint with recently. It's a different experience from laying down layers of staining, translucent watercolor. Instead I'm able to build up from shadows and add spots of light. I've been using the opacity of gouache to focus more on shapes and less on lines. It's a lot of fun.
Please describe the project you will be doing for DEFAD 2017:
This year I'm doing Cetacean-A-Day! I'll be drawing one black and white page of swimming cetaceans each day. Once the project is finished, I'd like to compile it into a cetacean coloring book! [ed. Cetaceans are whales, dolphins, and porpoises.]
Where can people check out more of your work?
My website is http://angelacosenzo.wixsite.com/home My art and sketch blog is thistleburr.tumblr.com My online print shop is www.inprnt.com/gallery/thistleburr/
Do you have anything additional for us?
Yes! If you're interested in sailing with the Kalmar Nyckel or joining the crew as a volunteer, please visit the ship's website for more information! It's hard work, but it's also a lot of fun and incredibly rewarding. http://www.kalmarnyckel.org/index.asp