Interview by Monika Bullette
Welcome to the third interview of the 2018 Delaware Fun-A-Day Event. We talked to David Sanchez, artist, musician, and co-owner of Wilmington's premier silk-screening and clothing store - Spaceboy Clothing - a one stop shop for locally made graphic tees, custom clothing, vintage goods, and more. Thank you, David, for the DEFAD tshirts and the interview!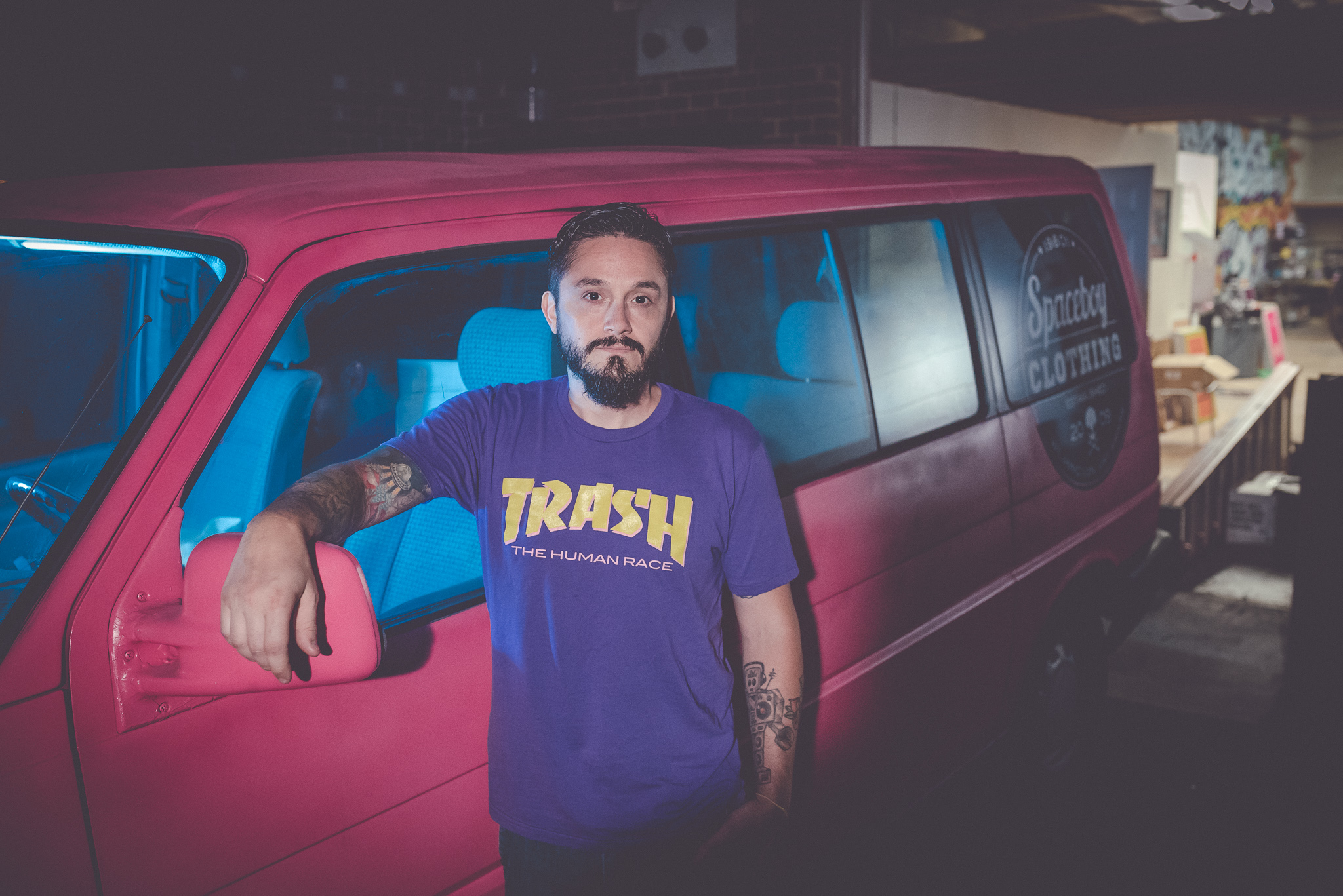 We like to know how people are connected to Delaware - are you a resident, born and raised? What has been your artistic path here?
I actually was born in Utah, long story but my family moved to DE when I was 1 or 2.
I'd say my path began with music, I started playing drums in 8th grade then transitioned over to guitar. I had previously sang in the school chorus so that was just an add on. In high school, I got more into graphic arts and I guess it took off from there.
Spaceboy is almost 9 years old! What has the most fulfilling part of the journey - and what would you most like to forget? How have you made Spaceboy an artistic hub?
The journey has had its ups and downs and I am still on it. I love meeting people and bringing their ideas to life. Yes, we do printing and graphics but over the years we've made it a point to try and get people to come downtown and hang out. We've hosted many comedy, music & art events and hope to do many more.
You've been quite active in the community efforts in the city of Wilmington. Tell us a bit about Humble Park project and what is next.
The goal was to bring that little park back to life. Create a welcoming place where people can relax and read a book, have lunch or attend an event. It's there, people can use it. Any other city has cool public places like this, but for some reason Wilmington is slacking. Once the weather warms up the goal is to add more art, color, vibe, more comedy & music.
You feature several Delaware themed tshirts at Spaceboy - I esp. like the Black Flag bars with the state shape. Which is your favorite and what other DE themes should we expect?
My favorite Delaware themed T-shirt at the moment is a kaleidoscope design i did last year. We also recently colabed with Sore Eyes Design Studio and I really like the 2 headed blue hen design as well. We will be releasing stuff over the next couple of weeks, so please check in.
Top 5 musicians you listen to in at Spaceboy:
Note, these are just my random preferences depending on my mood, not Noah's.
1. Phil Collins
2. Any sort of Retro wave
3. Jimmy Eat World
4. Tupac
5. Pinback
You are a musician yourself - quickly run through the names of bands you've been in since the 90s. And describe your most recent musical project!
Oh Jeez, Novella, Watership Down, Mirth, 99 Degrees, Game Over, Life In Stereo, The Solitary System, I Am Lightning, Up Nights, Did a solo thing called Augustine. My most recent project does not have a name yet. It's going to rock & when we're ready, I'll let you know.
What would you say are some of the main themes of your artwork?
I usually don't stick to any specific theme. But I do tend to keep things on the brighter side.
2016 was your first year participating. Please describe your 2016 project. How was your approach different with your 2017 project (please also describe)? What advice would you give first time participants? What do you plan to do for your 2018 project?
My 2016 project was interesting. I wanted to do something totally weird so I decided to screen print halftone images of my favorite 80's personalities. But instead of using ink, I used condiments. Like, Cheese wiz, chocolate sauce, ketchup, etc. Anything I could think of. I almost got Shoprite as a "sponsor" to let me come in and grab a bunch of stuff to try out. But I screwed up and was an hour late for our meeting. After lots of experimenting, I only ended up with a handful of condiments that actually gave me the contrast I was looking for.
The following year I did a bunch of POP-ART Collages. Multi media, multi layered, fun, colorful pieces using random clippings, pins and transparency film to create a cool 3D effect. I was very happy with that project and I'm still selling it for $1,000,000 if anyone wants it.
My advice would be just to change it up. Try and come up something new, original and the weird. For 2018, I'm not sure yet. Just got an iPad pro so I've been drawing a lot. I'll figure something out.
See David's art at at Delaware Fun-A-Day 2018 on April 6 (7,8) at The Delaware Contemporary!