Interview by Monika Bullette
For our fifth interview of the 2018 Delaware Fun-A-Day, we talk to Wendy Mitchell how she brings together local artists at the unique shows at Talleyville Frame Shoppe and Gallery, her own inspirations and causes, and canine employees. Thanks, Wendy!
Be sure to check out our Instagram, Twitter, and Facebook for updates on the progress of our interviewees! And make sure you check your email (and this site) for important information on drop off, the event, and art pick up!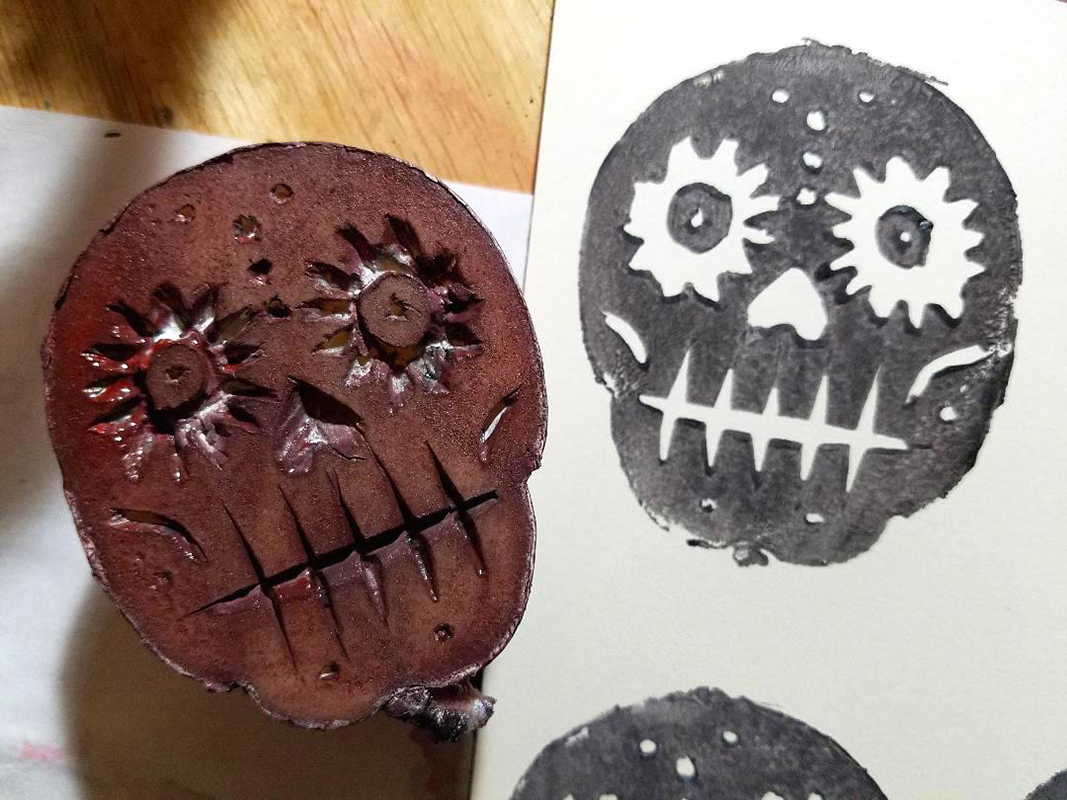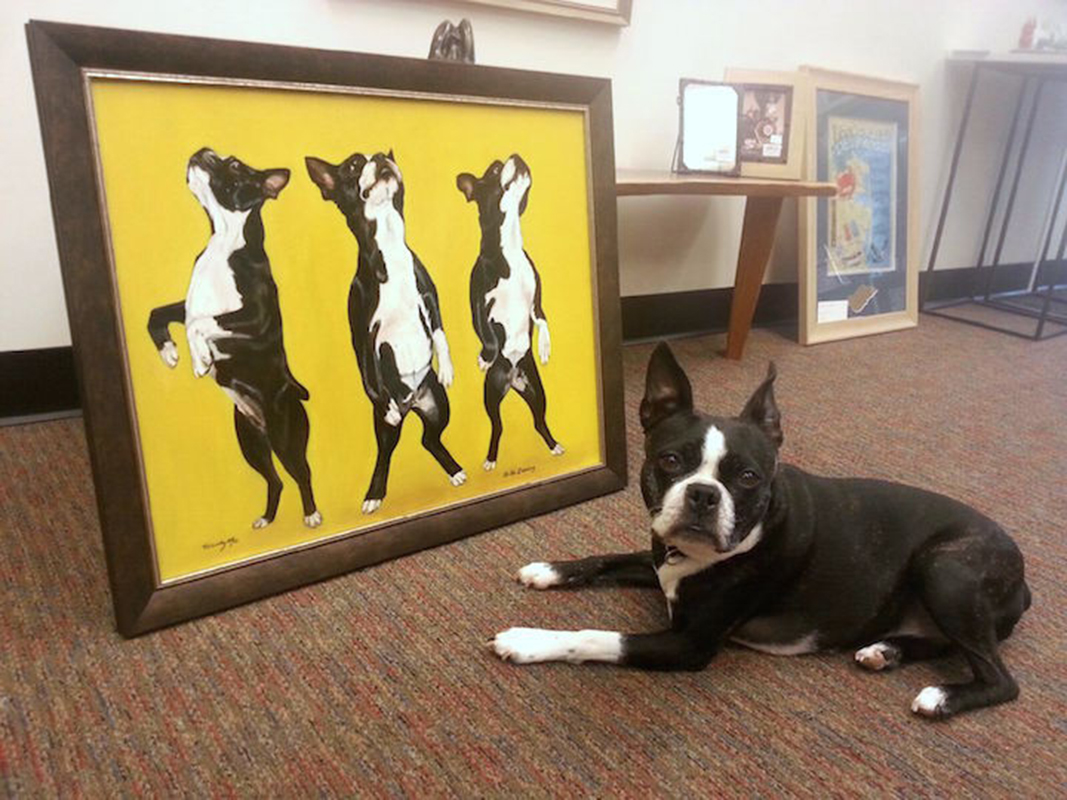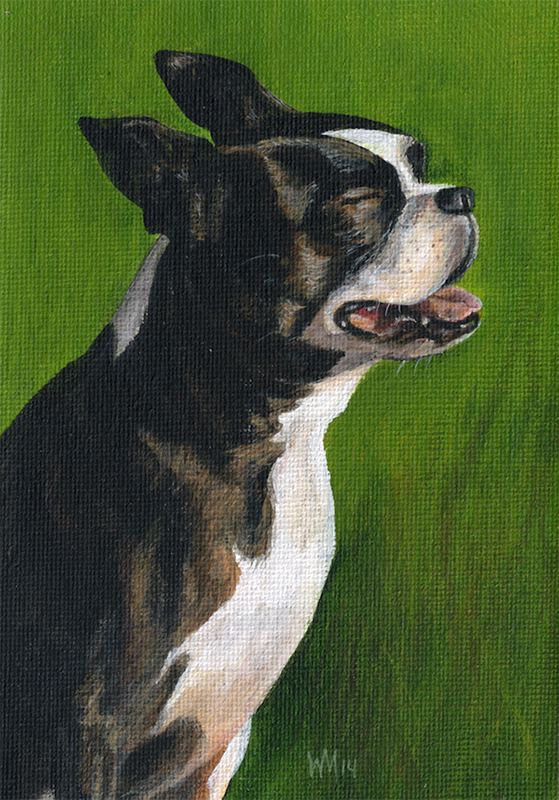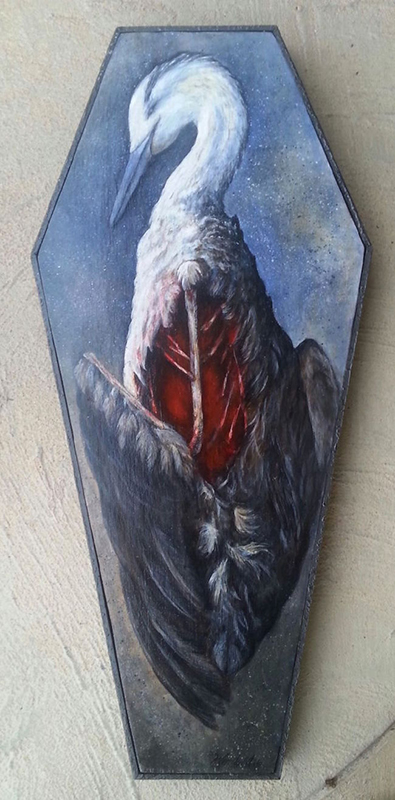 We like to know how people are connected to Delaware - are you a resident, born and raised?What has been your artistic path here?
I was born and raised in Delaware, although I do escape occasionally.
I started drawing as a kid. Spent a good bit of time drawing in my dad's office at work. He kept a drawer of old paperwork that I would draw on the back of when I was there.
I had several teachers who encouraged my interest in art, Mrs. Guy in elementary school, Mrs. Glasgow, Mrs. Walton, and Mr. Thomas through high school. My art school education taught me a lot, but the working artists and illustrators I met through the years inspired me to do whatever art made me happy.
As a kid, I loved Beatrix Potter's gentle critter illustrations. I remember reading about her and realizing a girl could create her own world. Art at the Delaware Art Museum had a big impact on me, as well. Howard Pyle's The Flying Dutchman haunted me, and Dante Gabriel Rosetti's Lilith showed me a woman confident in herself, but Marie Spartali Stillman's self portrait showed me a woman as artist as well as model, in control of the image as well as the image making.
You put on several shows in 2017 at Talleyville Frame Shoppe and Gallery with co-owner Ric Frane (who will be participating this year as well!). Please describe the most surprising piece in each of these shows? Wicked Winter - The Coffin Ball - Portrait Pollyanna - Big Little Art Show:
We have hosted a lot of unique art shows at the Talleyville Frame Shoppe. I am always amazed by the range of ideas our artists come up with, as well as how they interpret and execute them.
Wicked Winter, on March 2, 2018, is our annual "dead of winter, sick of winter" art show. It's loosely winter themed, art with a dark side. There are usually a few humorous pieces as well, like Tina Marabito's Haunted Telephone piece from last year. It's an eclectic mix of painters, sculptors, photographers, really just a diverse bunch of styles.
The Coffin Ball, in October, features coffin shaped art from another diverse group of artists, but it's not all Halloween and horror. Maia Palmer did a beautiful "Death of the Dictionary" piece last year. She utilized dictionary pages to create paper flowers that trailed out of the coffin shape.
One of my favorite things about our shows are when artists get to meet each other. The Portrait Pollyanna show was new for us last year. It was a secret portrait exchange, artists painting artists. Some knew each other, some did not. They all came out amazing. Some were hilarious, some were serious, and new connections were made. I loved so many of the pieces in that show. Illustrator Kurt Brugel and tattoo artist Brian Durkee unknowingly had to portray each other. They had never met, but they both stuck to their own style. Brian did a traditional tattoo style watercolor of Kurt as a tattooed sea captain, Kurt did a dark scratch board interpretation of Brian's mug shot (yes, mug shot) that made him look like a gangster. They were both super psyched about them.
We have some local artists who regularly participate in a lot of our shows who always do amazing stuff. Kristen Margiotta, Pat Higgins, Bob Bickey, Joe Hoddinott, Matt Stankis, Ken and Beth Schuler are just some of our core group, but we add new folks all the time. We also have some out of state favorites including illustrator Stephen Blickenstaff and printmaker Donald David, who mail in amazing stuff.
We have hosted the annual Big Little Art Show in December, for four years. It is the brain child of Delaware artist, photographer, and sculptor, Mark Rosenblatt. Seeing how much content artists can fit into a 6 x 6 inch space is always impressive. We had over 70 artists, illustrators, photographers, tattoo artists, graphic designers, sculptors, pin-stripers, and a cake decorator, showing over 200 pieces in 2017.
I also love the opportunity to collect original art from talented people, and this show is great for buying a couple of pieces because you always have room for small art.
Birds seem near and dear to your heart. How did you become interested in bird rescue. What bird that you haven't would you most like to see?
Birds have been a favorite subject of mine since I was young. I got to know some waterfowl artists and duck decoy carvers through my dad. These were my first encounters with professional artists, so it was a natural progression to draw and paint birds. We spent our summers on the Elk River in Maryland, and there were so many different birds. One of my favorites is the Great Blue Heron, although I'm quite a fan of birds prey as well. I have recently seen a Coopers hawk hunting pigeons near the Frame Shoppe; wildlife in suburbia. I've never seen an owl in the wild, but wood love to.
My friend Cheryl works at Woodford Cedar Run Wildlife Rescue in New Jersey. She took me to help a few times. I got to hold an owl and feed a whole lot of baby birds. It's quite an experience. I volunteered a little bit, and try to support the Tri-State Bird Rescue here in Newark, Delaware. Cheryl also introduced me to taxidermy. I sometimes do anthropomorphic taxidermy of mice with my friend Tina Marabito.

Car Culture - what's the coolest car you've owned or driven?
I was interested in cars as a kid, as well. My uncle had a dragster, and my dad had several cool cars including a 1959 Corvette. I've had quite a few old interesting vehicles over the years, always "beaters," never a shiny classic. They were just basic transportation (with personality) for me. I currently have a 1961 Chevy Apache Panel truck that I drive to area car shows. I love that truck! The Frame Shoppe also co-sponsors Poppycock Tattoo's Wilmo A Go-Go Car Show in May. It's a great place to see a crazy variety of cool vehicles. I take my truck and sell art and vintage junk.
Shoppe dogs! What do dogs know that we don't?
We have had a few canine employees. Currently, GoGo, the Boston Bitch, and Miss Marple, the energetic one eyed old lady, both keep us entertained at work. They've both done art modeling as well. They know not to sweat the small stuff, and that if you're cute enough, someone will give you a treat.
Describe the most beautiful thing you've framed and the most bizarre...
Picture framing has exposed me to all kinds of art and people. We frame art and objects from all over the world, and so many of those pieces have a story. We've framed a huge variety of stuff, including motorcycle parts from an accident, a cast from a broken arm, a collection of watches, a zither, military uniforms, and most recently, a World War II flag from the D Day landing in France, as well as a piece of the USS Arizona from Pearl Harbor. This week I'm working on framing pieces of an antique designer silk gown that was damaged in a house fire. It's a truly unique piece. I did once frame a bungee cord as a joke. A woman framed it for her husband as his first fishing trophy, because it was the only thing he caught.
2017 was your first year participating (and the first year you generously allowed Delaware Fun-A-Day participants to drop off and pick up their art at Talleyville Frame Shoppe and Gallery- THANK YOU!). Please describe your 2017 project. What advice would you give first time participants? What do you plan to do for your 2018 project?
Last year for Fun a Day, I did printing using vegetables. I cut images in potatoes, carrots, and a few other veggies, then printed them onto paper, kind of like rubber stamping. I did a Halloween theme, pumpkins, skulls, bats, etc., and then framed them all together as a collection. It was fun, but challenging! I wasn't consistent with size, and the vegetables would break down quickly, limiting the number of clear images I could print. I purposely chose something different from my normal style because I wanted to free myself up a little.
My advice to new participants is to get yourself organized beforehand. Choose your media and get materials ready before the actual making. I also think it's important not to get too far behind. I know a lot of people start well, then miss a couple of days. Next thing you know, a couple weeks have gone by, and you need to catch up. I tried to do two pieces in one night, that way I could take a day off if need be. Most of us are doing this as added activity in our very busy lives, and it is almost impossible to commit the same amount of time every day.
I'm torn between two ideas this year. I'm leaning toward "Insight and Inspiration," which will be partial portraits of women who have influenced me, as well as a few self portraits. My other thought is to illustrate 31 different birds. I need to decide soon! Either way, my goal is to keep them simple, and not to overthink it, or try to make them too complex, all of which will be challenging.
Check out more of Wendy's work at www.facebook.com/artofwendym and at Delaware Fun-A-Day 2018 on April 6 (7,8) at The Delaware Contemporary!
Don't forget that Talleyville Frame Shoppe and Gallery is a drop off point for artwork before the event and a pick up spot afterwards!